About Wholesale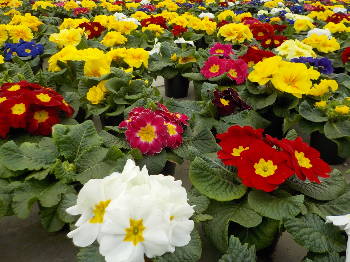 With some greenhouse operations, wholesale business is either just a way to move excess crops or one grower doing another a favor. But Lamar Esbenshade had a vision from the beginning: to become a leading wholesale supplier of quality plant material to the horticultural marketplace. As his business grew so did the demand for his crops, leading to year-round production in over sixteen acres of greenhouses. That vision has not been lost, as evidenced by the full menu of quality crops offered today. Esbenshade's Greenhouses can help growers at any stage of the production cycle. We offer a full line of rooted cuttings, as well as pre-finished and finished crops.

The year begins with cyclamen and primrose sales in January, and we move into "high gear" with our spring liner production. We also produce our own seedling plugs for bedding plant production at this time of the year. If Easter is early we will have Easter crops in full swing, and will be starting spring pre-finished and finished crops.
By the middle of March we begin selling pansies, cold crop vegetables, and other cold-tolerant flowering plants. As quickly as we sell Easter and pre-finished crops, we are filling the greenhouses back up with annuals, vegetables, geraniums, hanging baskets, and all of the other spring favorites.
April signals the start of aster and chrysanthemum production for fall color. As we are busy selling and delivering our spring crops in April and May, we are also rooting two million fall chrysanthemum and aster cuttings to be sold through our broker network. This successful, long-running program was Esbenshade's Greenhouses' first attempt at producing rooted liners for sales through brokers, and this program continues to grow every year.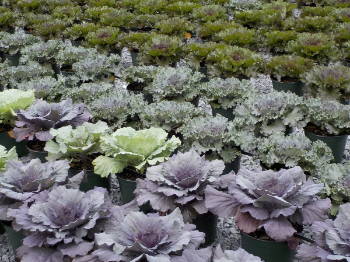 When June rolls around we are still selling some spring annuals with an emphasis on larger containers. We continue to sell perennials and are busy potting mum cuttings for fall finished plant sales. Before June is over, we are finishing up fall mum production. Beginning in July, we are busy rooting poinsettia cuttings, starting pre-finished and finished poinsettia production, and potting flowering cabbage and kale.
In mid-July cyclamen is planted for both pre-finished and finished sales. We force an early 6.5" mum crop for late July and early August sales while busily potting and spacing poinsettias. We wrap up poinsettia cutting production in August and begin fall crop sales and shipping. Early pre-finished cyclamen become available in September, and pre-finished poinsettias are shipped, giving us more room to space the finished poinsettia crop. The poinsettia crop is planted and spaced by the end of September.

If there is a slow time at Esbenshade's, it is in October. The poinsettias are spaced and growing, and the fall crops are sold. Stock plants for spring are being nurtured so that they can produce their bounty. This is a time for re-covering polyethylene greenhouses and other greenhouse maintenance before cold weather visits the region. Early varieties of finished poinsettias are selling by Thanksgiving. In December, pre-finished primroses become available, and we are also starting to root geranium cuttings and other spring liners. By Christmas the poinsettias are a memory and the yearly cycle begins once again.